THE METHOD, Vol. 1: How to succeed in the transfer market (ft. Wheeldon Jr., McNab)
---
In the first edition of The Method, a new series of discussions with the coaches and executives shaping our own domestic league, we asked Cavalry head coach and general manager Tommy Wheeldon Jr. and York9 president Angus McNab to take us through the signing of players and building of a roster, and all its potential pitfalls, from start to finish.
---
It's the same story every year.
In one league or another, a major club is reported to have a laundry list of desired signings as it builds its squad for a new season.
Most of them don't pan out and panic ensues. The team stumbles out of the blocks as the campaign gets underway and the alarm bells grow louder.
They were deafening in the aftermath of Manchester United's 6-1 humiliation at the hands of Tottenham on Sunday. United had been chasing Borussia Dortmund's Jadon Sancho — rated at over €100 million — all summer but failed to land him and instead pivoted to a flurry of alternatives hours before the transfer window closed.
Back at home in Canada, after another couple of games that ended in sound defeats to Western Conference rivals, the Vancouver Whitecaps were once again criticized for their recruitment process — and the lack of results it is delivering.
But what exactly does that recruitment process entail? And what does a good one look like?
Step 1: Enter the offseason
Wheeldon: "For us, it's secure the core, and then we explore.
"We look more into the New Year (for new signings) — especially for the international window.
"But we really want to look at the core because that's been there from day one. We always want to make sure that we maintain that winning culture that we've created and then we need to add to it."
McNab: "First of all, we start with ourselves and look at the basics: what we have signed, what we have as options, who we have out of contract.
"Put them into those three buckets and look at how we felt squad balance was. Did we have the right number of players in each position? Did we have tactical flexibility?"
Step 2: Review recruitment philosophy
Wheeldon: "You've got to start from the inside out. I sit with our coaching staff and say, 'If we were fans, what type of football would we want to watch? Or, as a player, what type of football would you want to play?'
"You identify your playing DNA.
"And then you look at what represents Spruce Meadows. Our name is the Cavalry so right away you have images of these horses coming after you, right? It's a military term. We want to be everybody's toughest game."
McNab: "It's pretty simple: how do we sign the most relevant players to help us achieve and win? It's about having a productive and sustainable scouting and recruitment network recruiting players 24 and under. That's what is going to get us where we need to be.
"It's that huge balance of what do we get through the domestic market and how can we supplement with shrewd, difference-makers in quality through the international side? Neither of them is easy at the budget level and the price point we shop at.
"There are no absolute sure-fire things at this level and with the restrictions we face. That's nothing to do with the players and speaking about player quality. That's everything to do with the uncertainty that all of the markets face right now."
Step 3: Shortlist your transfer targets
Wheeldon: "We have certain profiles that we feel can fit (our style of play) because we want players that are very fit, but also very intelligent and very technical.
"When you have those profiles, then you look at, right, what does that mean for a centre forward? What does that mean for a left winger? How do they fit the system?
"And then you start connecting with relationships you have at clubs around the world. You facilitate the conversations with agents and say, 'Here's our needs for next year, let me know when you have players with these types of profiles.'
"If we like what we see, we go down a process of getting to know them. You speak to three or four people that have either worked with them or played with them so you can get a range of (opinions on) what they are like as a character, because character is important to us."
McNab: "The skill elements are all the same as anyone else. We then do a little bit of work and look into a player's personality, their social profile — what are we getting as a person?
"With Julian (Ulbricht) and him being in Germany, Paul Stalteri is able to have a little bit of a dig to his contacts there and the who, what, when, where, why of Julian's career. You just build up a pretty comprehensive picture of the player and what he looks like and who he is."
Step 4: Identify mistakes and pitfalls
McNab: "In our league right now, the easiest pitfall is getting into a bunfight and overpaying for domestic talent. In the nicest possible way, I think we have some great players around the country, but I think the cold message on it all is that everyone is replaceable.
"We have to be very sensible. It's not about not valuing people in your organization. It's about being responsible and not being the club that overspends in the Championship to go to the Premier League and can just as quickly end up in a relegation battle and moving down again — and having this cycle of unfulfilled promise."
Wheeldon: "I think it's easy to get caught out on YouTube. The amount of YouTube sensations we get through … everyone looks good.
"You've got to then look at, right, what level has he played at? How does that compare with the Canadian Premier League? Is it above it? Has he played often enough? You've got to be thorough in terms of your research."
Step 5: Make your move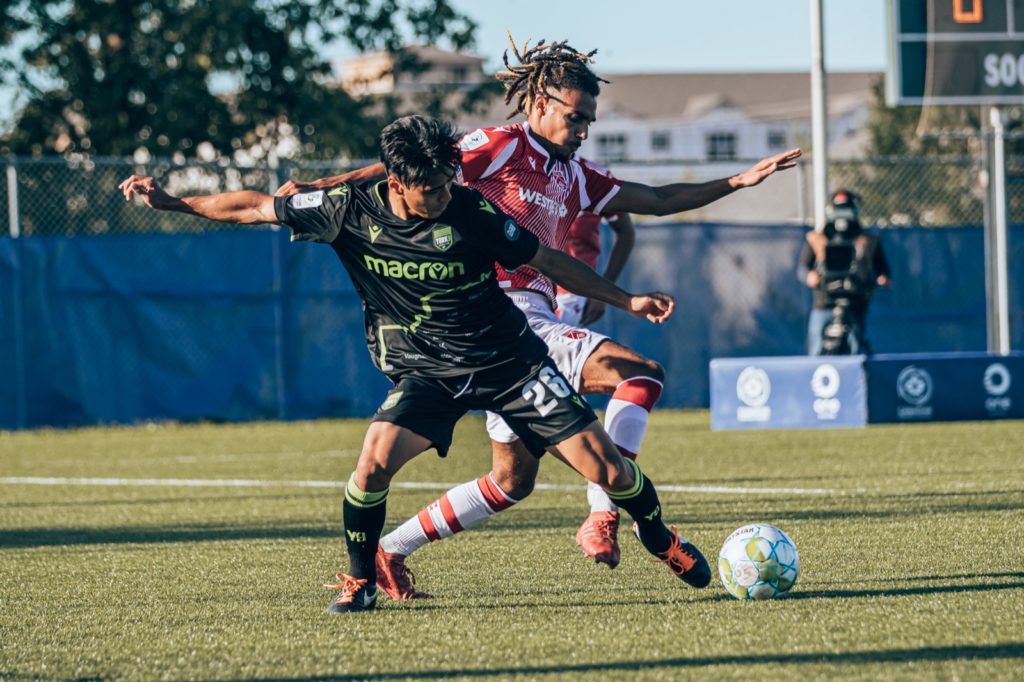 McNab: "Where a player has appointed an agent, I try to never mention a dollar with the player. Where possible, Jimmy (Brennan) now will never mention a dollar with a player. It's important to separate (that from) the professional relationship of coaching.
"Also, quite frankly, agents are less emotional on it. They understand that it is a business more than the players themselves. We can have very frank chats about valuation and what we see.
"With a couple of agents, we've actually described how we would use the player and how they would be part of an overall communications and marketing plan for the club and for the player themselves. We need to build asset value and profile for these guys if we're going to meet our aims of resale on the international market."
Wheeldon: "If the first thing out of their mouth is, 'How much is this contract worth?' then it's dead in the water. That's an easy filter. But if they talk about opportunity — which is what this league is all about — then they're speaking our language."