PLATT: 1 reason why your team can win the Island Games … and why they won't
The final weekend of the Island Games' first round saw seven teams still in the mix to qualify for the next stage — and the final berth swinging as late as the 85th minute of the last match. We couldn't have asked for a more interesting season so far.
Most positively, it truly feels as if the North Star Shield could land in the hands of any one of the four teams that have advanced. Have a look at their round-one matchups:
Not a single clean sheet or two-goal victory.
(Side note: if those results were replicated in the second round, either Cavalry or Pacific would join Forge in the final based on … the U21 minutes tiebreaker. They have identical records.)
If you'd told me before the tournament that York9 would be out in the first round, I would have been worried we were heading for another two-horse race. But that's not been the case, and at this stage I genuinely don't know if Forge and Cavalry see each other as tougher opponents than Halifax and Pacific.
They've been excellent, and they could win it all. Here's why (and why not).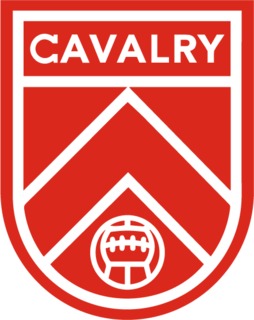 Cavalry FC (Calgary)
Why they will win: I'm going to skip ahead to why they won't, because maybe there's a silver lining to be found there. Cavalry's big hurdle to overcome is the seemingly endless sequence of blows they've taken to their attacking group.
To recap: Julian Buscher and Dominique Malonga left, Richard Luca and Jose Escalante never got in the country, Jose Hernandez and Jair Cordova got injured, then Sergio Camargo got injured, and then Oliver Minatel broke his leg.
If Hernandez, Cordova, and Camargo can't get back or aren't fit enough to make an impact, you're basically looking at a front three of Nico Pasquotti, Marcus Haber, and Jordan Brown backed up by Aribim Pepple. That might be OK in the goalscoring department, but there's a serious lack of the kind of invention needed to create chances in the first place.
But here's the thing: Cavalry might still trail behind the other three teams in this round at the top end of the pitch even with Camargo. And you wonder if they would be better off accepting that and placing an emphasis on the second half of Tommy Wheeldon Jr.'s 'pretty or gritty' motto — and more likely to do so with every new injury or setback that comes their way.
The way they ground out a 1-0 victory over York9 — and we know now that a draw would have seen them eliminated — is the blueprint.
Why they won't win: See above. Cavalry has scored two goals in its past three games — one a penalty and the other off a goalkeeping error. They've been held under one expected goal in three of their past four.
They just aren't creating much, so can they score enough to get by off set pieces and mistakes? Marco Carducci, Dominick Zator, and co. are going to need to be at their very best.
Forge FC (Hamilton)
Why they will win: They've done it before. The defending champions' mixture of big-game experience and quality all over the pitch means they remain the favourites in my eyes.
Has the David Edgar-Daniel Krutzen partnership been as watertight as it was down the stretch last year? No. Has fatigue affected even the seemingly tireless Kyle Bekker? Yes. Do they need more consistency from their forwards? Yes again.
But you know there's more there, and we've come to expect it when it matters most. Forge got walloped 4-0 by York9 a couple of weeks before Finals 2019 but were near-perfect over 180 minutes in Hamilton and Calgary.
They have another gear to go to, but they're going pretty well as they are now. No team systematically creates high-quality chances like Forge, whose non-penalty expected goals total was the best in the first round, as was their expected goals per shot.
Why they won't win: Bobby Smyrniotis' score-by-committee approach has looked good so far, but it was in crunch time last year when they leaned on Tristan Borges the most. He was clinical in a way that others in this team haven't always been.
Defensive set pieces have also been a problem: after (remarkably) not conceding a single goal from a corner last season, Forge shipped four in the first round and a league-worst seven from dead-ball situations in total.
HFX Wanderers FC (Halifax)
Why they will win: Let's put it out there: is there a better team on paper in the CPL?
Peter Schaale and Jems Geffrard have formed a daunting centre-back partnership that has allowed just two goals in Halifax's past four games, both of which came from spectacular strikes from outside the box.
In midfield, Aboubacar Sissoko has been one of the season's breakout players and Andre Rampersad perhaps its most complete midfielder. For now, Louis Beland-Goyette — who I picked out as the team's key player after week one — is on the bench.
And while the attack has missed Joao Morelli, it got by with a pair of 2-0 victories that booked the Wanderers' spot in the next round and kept Akeem Garcia at the front of the Golden Boot race.
The 22 minutes before his red card against York9 aside, we've only seen Morelli play off Garcia once — the 3-1 win over FC Edmonton in which Morelli was the man of the match with two goals and Garcia got the other. Their partnership is a potential X-factor for a team that has already looked lethal in transition.
There are several players I haven't mentioned who are worthy of it and that speaks to the depth and variety at Stephen Hart's disposal. From the early stages of the first round, opposition coaches and players have quietly been picking out Halifax as a real contender.
(An aside I found interesting: Schaale pointed out to me that the condensed format of the Island Games was nothing new to Halifax's seven U Sports graduates, who are used to playing back-to-backs and even three games in four days.)
Why they won't win: I'm not a big believer in the possession stat being inherently meaningful but averaging just 40% of it is on the low side for a contending team. That and Halifax's open-play expected goals total of 3.9 — the lowest among the qualified teams and more in line with the four clubs that have gone home — speaks to a club that is still working on finding a rhythm and control with the ball.
There was one chance for Atletico Ottawa on Sunday that a frustrated Hart told his coaching staff could be attributed to a player choosing the wrong pass — even though he didn't give the ball away — some two minutes earlier. The coach has been around long enough to know that even minor lapses in possession can be punished.
Pacific FC (Vancouver Island)
Why they will win: They have a coach who has a force of personality beyond any I've encountered in this league, and who is coaxing the absolute maximum out of a talented but youthful and not overly deep roster.
Marco Bustos says that no coach has ever connected with him like Pa-Modou Kah has, and he's having an MVP-calibre season to back that up. Matthew Baldisimo looked a little lost at times last year; now he's playing as well as any No. 6 in the league. I tipped Kadin Chung for Canada's Olympic roster earlier in the tournament but we're reaching the point where the senior national team may not be out of the question (Kah certainly thinks not).
Pacific recruited very well even beyond Bustos: Callum Irving (one error aside), Thomas Meilleur-Giguere, and Jamar Dixon have all been excellent and the addition of Alejandro Diaz has meant that a disappointing first round for Terran Campbell was not fatal.
Pacific's 2-1 win over Cavalry was probably the highest high any team has hit so far, and in that form they can beat anyone in the CPL.
Why they won't win: The worry with Pacific was always their depth. They have the smallest squad (19 players) in Charlottetown and now they're starting to feel it, with Lukas MacNaughton and Marcel De Jong both sitting out Sunday's game against Edmonton.
That meant that Kah had only five outfield substitutes available. The only players league-wide who have logged more minutes than Bustos so far are centre-backs and Baldisimo, and other than Bustos no winger (they do a lot of running) has played more than Victor Blasco.
Dixon has tended to need relief 20 minutes or so from the final whistle and in a couple of positions Pacific is one injury away from a crisis — like Abdoulaye Samake's at the weekend, which forced Baldisimo into defence in MacNaughton's absence.
Pacific was flat against Atletico Ottawa and not much better in the first half against Edmonton but found a way. That was a commendable effort, but you wonder if legs are tiring.
Enjoy this kind of content? There's plenty more premium analysis over on OneSoccer, where Oliver Platt brings us up-to-the-minute Canadian Premier League updates, reporting from Charlottetown, PEI –

Subscribe here!